Our Pastor
Rev. Lee E. Fields, Jr., A.A. B. A.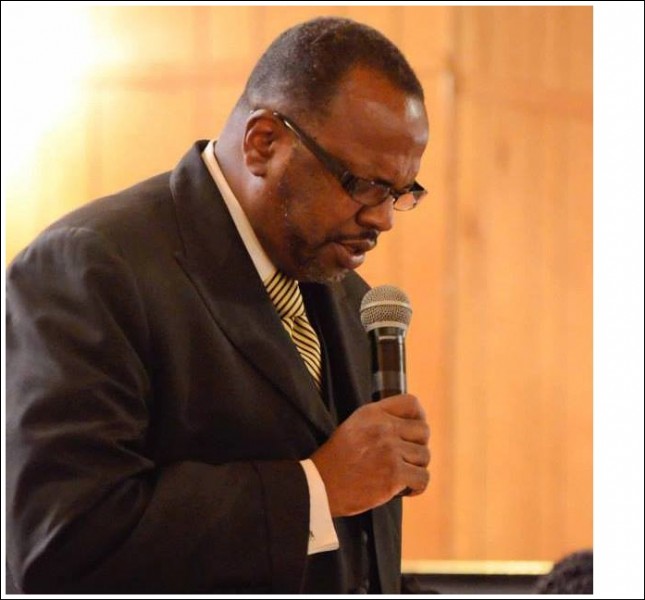 Our pastor, Rev. Lee Edward Fields, Jr., is a native of New Orleans, Louisiana and the younger of sons, born to the Late Lee Edward Fields, Sr. and Mrs. Anita Haynes Fields. He was educated in the Orleans Parish Public Schools and a 1977 graduate of Alcee Fortier Senior High. Pastor Fields was baptized at the Little Zion Baptist Church of "Gert Town", by the Former Pastor Rev. Dr. Roosevelt Bryant, Sr. in 1966. He later joined the St. Joseph Baptist Church to be with his family under the Pastoral leadership of the Rev. C. J. Allen, Sr. During his young adult life he united with the Ebenezer Missionary Baptist Church under the leadership of Dr. Lawrence E. Landrum, Jr. Pastor Fields is a 1977 graduate of Alcee Fortier Senior High School, New Orleans, Louisiana. He attended the University of New Orleans; but later would transfer to Grambling State University where he sought a Bachelor's Degree in Elementary Education.
Pastor Fields served in the youth department and Sunday School department under the late Sis. Thelma Wallace while a member of the Little Zion Baptist Church. While at the Ebenezer Missionary Baptist Church under the leadership of Dr. Lawrence E. Landrum, Jr., he was active in the Youth ministry, Radio Mass Choir and various other ministries.
In 1981, Pastor Fields sought entrance at one of Louisiana's Historical Black College in Northern Louisiana-Grambling State University. While at Grambling State University, he would receive his call to the Gospel ministry, and under the advice of Dr. Landrum would seek guidance under his Pastor in Pineville. He would relocate to Pineville Louisiana, the native hometown of his father, where he united with the Lone Star Baptist Church. While a member of Lone Star under the Pastoral Leadership of Rev. Dr. Wardell Williams, he delivered his first Sermon on Sunday, May 16, 1982, and became licensed to preach on Sunday, June 13, 1982.
Pastor Fields was ordained under the auspices of the Educational Missionary Baptist Association, on Sunday, January 31, 1983 and eight months later, he answered the call to serve as the Senior Pastor of the Second Evening Star Baptist Church of Bayou Rapides, concluding in that ministry providing 15 years of service.
He would begin his theological training at Louisiana College of Pineville, La, where he studied Religious Education. After sometime, he attended the Alexandria Extension of the United Theological Seminary and Bible College, where he would complete their courses of studies to graduate.
After a very successful and fruitful ministry in Louisiana, He was led of God to his second call to pastorate in Springfield, Illinois, as the Senior Pastor of the Pleasant Grove Baptist Church for fifteen (15) years. While serving as Senior Pastor, he would give leadership to 8 sons in the ministry, of which two who serve as Senior Pastors. Moreover, during his tenure at Pleasant Grove, the membership would increase by leaps and bounds. The membership increase served as a basis for Pleasant Grove to construct a balcony with a seating capacity of 200. Moreover, with God favoring the church with membership and finances, Pleasant Grove would be able through his leadership to erect a new building: the Dr. L. R. Hubbard Educational/Life Center. This building project holds a special place in his heart simply because; he drew the plans and was able to secure K.L.& Sons Construction Company to move it from vision to reality at a cost of $700.000.000
The desire to finish his pursuit of obtaining his Bachelor's Degree has always been number one on his bucket list. Therefore, after being challenged by his oldest daughter Jasmine to complete this task, he enrolled in Lincoln Land Community College and obtained an Associate of Arts Degree in Elementary Education in 2010, and went on to enroll at the University of Illinois at Springfield and obtain his Bachelors of Arts Degree in Education/Liberal Studies in 2012, graduating with honors.
Pastor Fields would be inducted into the Alpha Sigma Lambda National Honors Society. Presently, Pastor Fields is enrolled in the Masters of Divinity Program at Morehouse School of Religion, Interdenominational Theological Seminary of Atlanta, Georgia; as well as the Masters of Arts Program at the University of Illinois at Springfield, in Springfield, Illinois.
On Saturday, May 14, 2016, Pastor Fields will be conferred the Masters of Divinity Degree with a Concentration in: Biblical Studies and Languages. Upon, completion of this degree, he waits with great anticipation of receiving a letter of acceptance to start the Doctorate of Ministry program at one of three Universities: Shaw University Divinity School in Raleigh North Carolina, United Theological Seminary in Dayton, Ohio or Virginia Union University in Richmond, Virginia.
Pastor Fields' spiritual journey has allowed him to work closely with the National Baptist Convention's Evangelical and Foreign Missions Boards. As a member of the New Hope Baptist Church of New Orleans, La. under the Pastoral leadership of Rev. Dr. John C. Raphael, Jr., he was privileged to serve as the Deputy Director of the National Baptist Convention of America's Foreign Mission Board, where his position would allow me to travel to Ghana West Africa five times; to Panama City, Panama- 8 times; as well as St. Thomas Virgin Islands and Puerto Rico, Dominica.
He has also been privileged to preach in countless settings in the National Baptist Convention; as well as serving as the late Night Speaker on three occasions. He has conducted City Wide Revivals in, Baton Rouge, Alexandria and Winnsboro, Louisiana; Port Arthur and Victoria, Texas; Denver, Colorado; Wichita, Kansas; as well as preached across these United States.
This coming June 16, 2016, Pastor Fields will have been married to the former Ms. Kim L. Wells of Pineville, La for 32 years. Pastor and Mrs. Fields, are the proud parents of two daughters; Jasmine Danielle Fields of Austin, Texas and Katlyn M. Fields of Beaumont, Texas; and two sons, Reginald "Reggie" Fields and Ralph "Polo" Fields.
Pastor Fields is blessed to have his only living parent Mother-Mrs. Anita Haynes Fields of New Orleans, Louisiana. His siblings, the late John Burle Williams, Jr., Mr. Herman Williams, Sr., of Shreveport, Louisiana, and Mr. Stanley Haynes of Atlanta, Georgia.,
Since 2012, Pastor Fields has been the third Senior Pastor of the East Mount Olive Baptist Church of Port Arthur, Texas. and the 2nd Vice President of the Eastern Progressive District Baptist Association. The ministry of East Mount Olive is progressively under the leadership of Pastor Fields, as they are looking forward to purchasing property for the erection of their new church edifice-which will seat 1.000 congregants.